In planning a themed wedding there is always a very thin line between a subtle ode to a favorite and or choosing to go over the top with the theme. There's a time and place for both looks. In fact, we love a great themed wedding or party, but it seems most couples are looking to stay subtle while making sure the theme is still a part of their special day.
A few months back we devoted a week on our Facebook page to highlighting some of our favorite movie and book themed weddings, but we thought it would be fun to check them out again. One thing to remember when looking at many of these weddings, is that they're often styled shoots. Much like haute couture runway shows, the goal isn't necessarily for a viewer to take each item in a styled shoot and copy it in the real world, but to see a few items here and there that would work well for you and your vision. Take a peek at some of our favorites here …
Moonrise Kingdom
There is so much to love about this Moonrise Kingdom themed wedding. For many couples looking to Wes Andersen for inspiration on their wedding day two big things stick out – bright colors and whimsical elements. Moonrise Kingdom is a perfect film to use as inspiration because it brings in the ever so popular natural elements, throws in a little young love, and tops it off with a bit of adventure. Whimsical woodland wedding inspiration is here: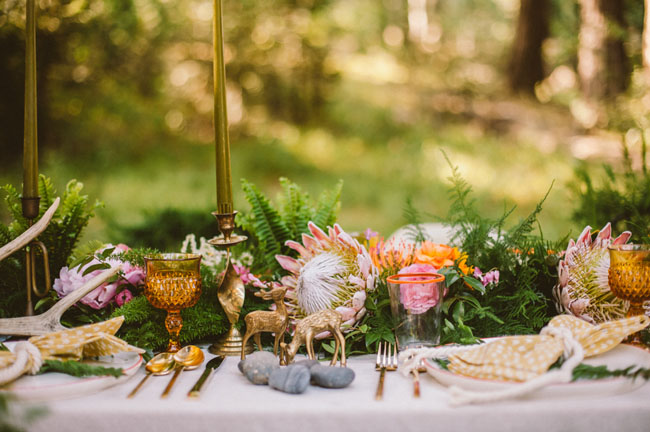 Marie Antoinette
Nothing conjures up images of glamour and excess quite like the name Marie Antoinette. One mention of her name and thoughts of golden accents, irresistible pastels, glamour, and extravagance come to mind. Sofia Coppola's take on the famous queen was an artsy cinematic feast for the eyes that perfectly captured all of those iconic, and distinctly Marie Antoinette ideals. It's a unique, but brilliant film to use as a theme for a Parisian wedding fit for royalty.
This couple opted for edgier take on Coppola's Marie Antoinette film. While still staying true to all of the elements that made the film feel so dreamy, they paired modern elements and rough touches with the soft to give it an updated feel. Just look at that gilded cake with sparklers!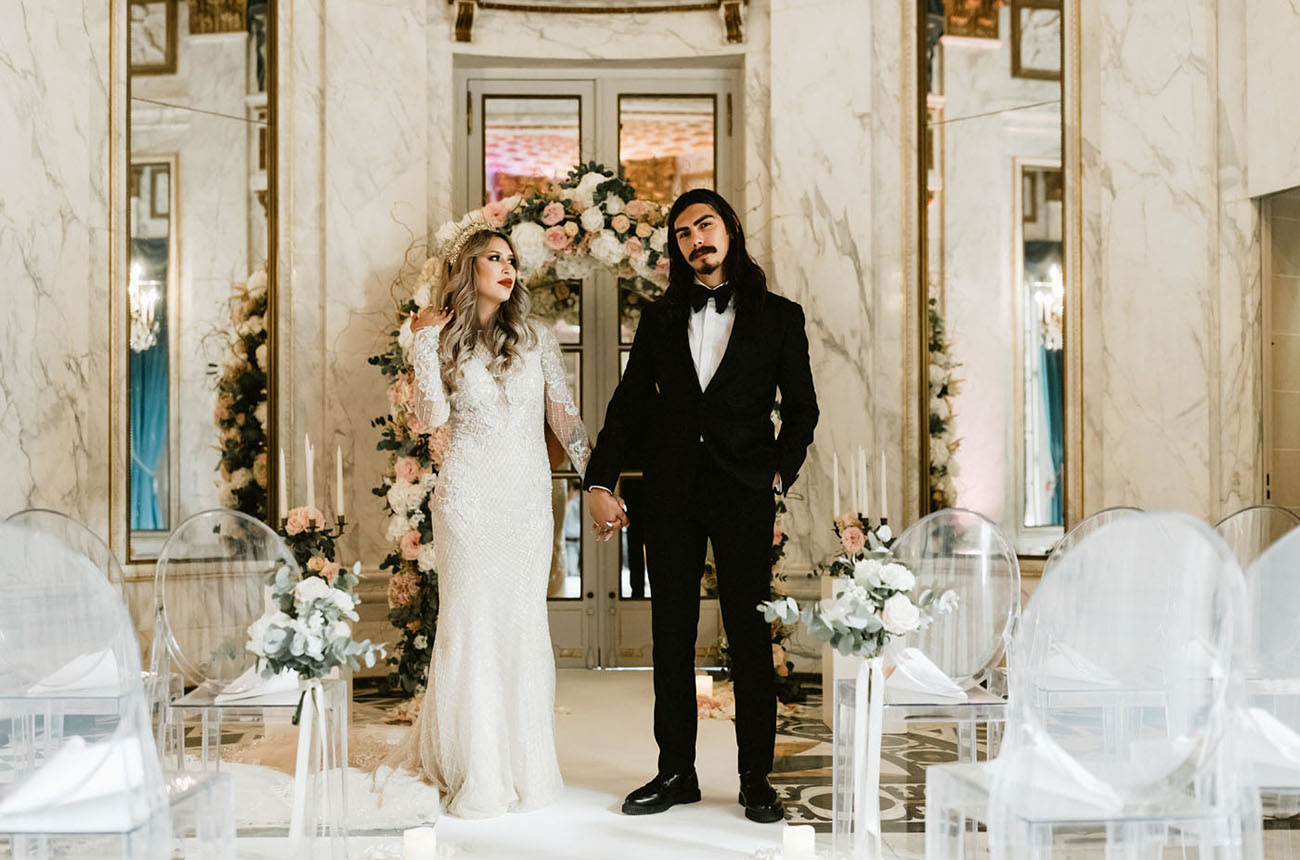 Harry Potter
Taking over The Hollywood Castle and turning it into Hogwarts for the day. An invitation sent on a Marauder's Map. Tasty treats straight off the shelves of Honeydukes (actually brilliantly created by 24Carrots catering).This couple's Harry Potter wedding is a textbook example of how to take on a theme quite prominently without being kitschy. The theme plays heavily into everything from the table décor to the food and beverage … even the guests were in full costume! The elegant color palette and sophisticated detailing elevated the event from coming off as childish to an upscale event that the most proper of muggles could enjoy.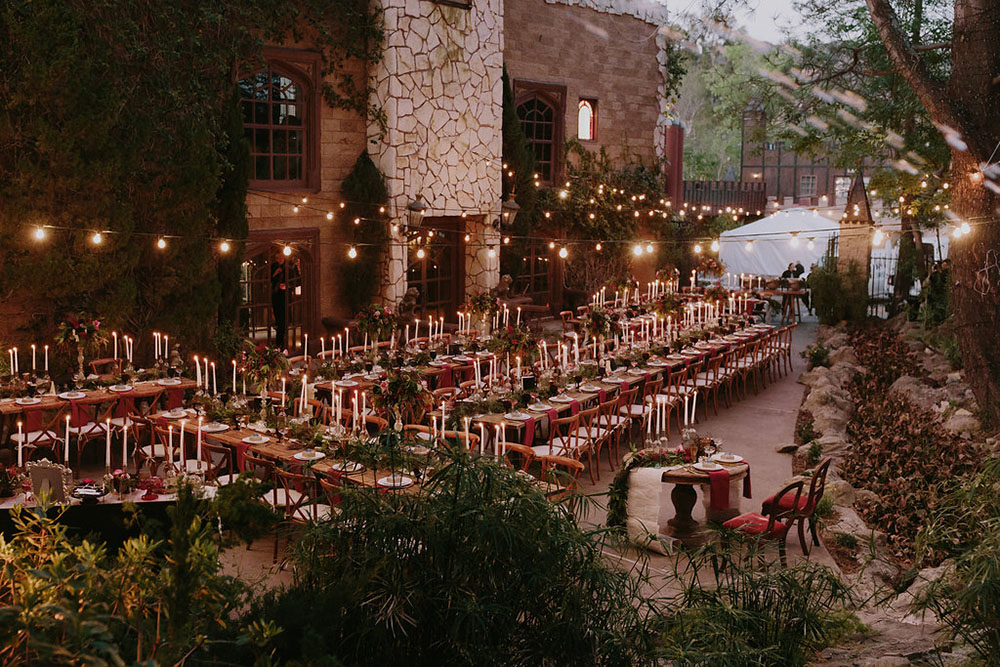 Midnight in Paris
Few places are a better fit for a Midnight in Paris inspired wedding than New Orleans. This themed soiree plays off of all of the French feels in Nola while adding a bit of old-fashioned cinematic flair. With a film that's filled to the brim with Art Deco inspiration it would be easy to go over the top, but with subtle details and an excellent backdrop this couple nailed the look.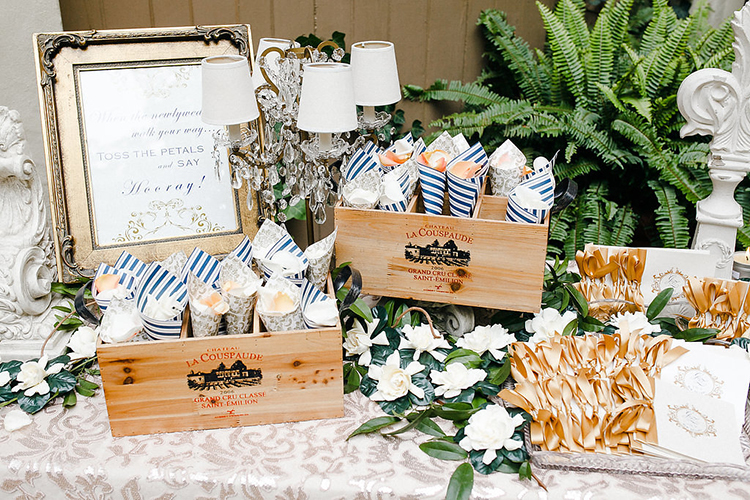 Outlander
For Outlander fans, Jamie and Claire Fraser are the epitome of timeless romance. With their love story set against the backdrop of lush, green, moody Scotland it's just as easy for the viewer to fall in love with the location as it is to fall in love with the main characters themselves. Outlander is the perfect show (and book) to reference for a timeless, elegant, and rustic themed event.